Title: Punching the Air
Author: Ibi Zoboi and Yusef Salaam
Date Read: February 7, 2021
Two snaps.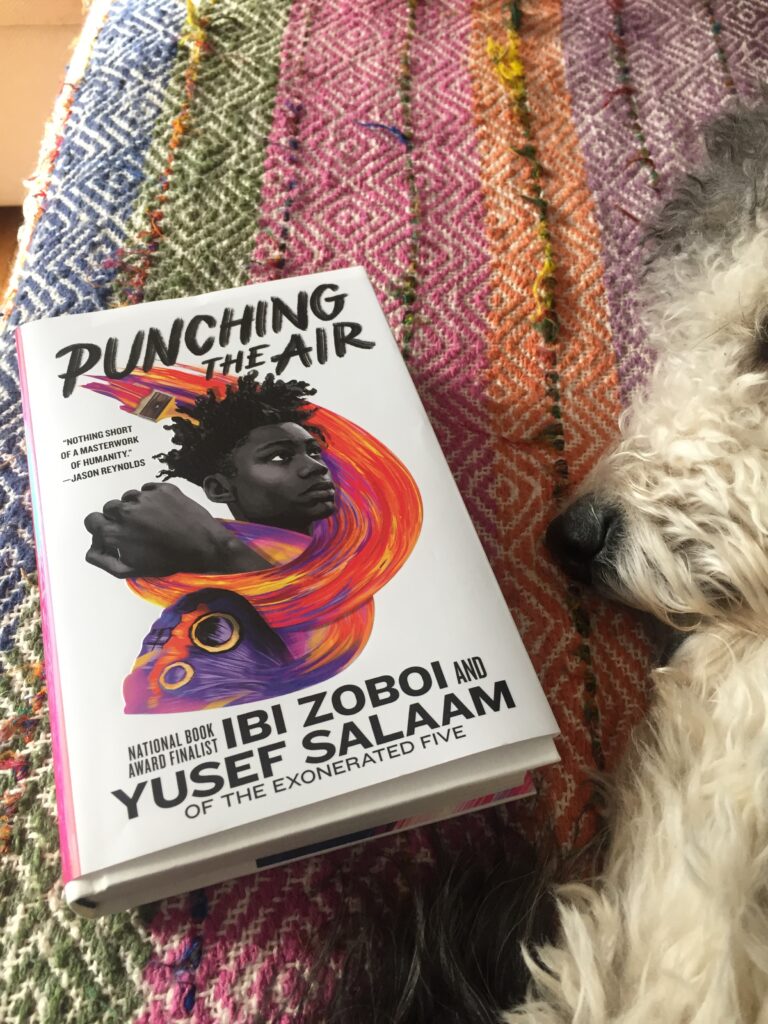 On the night of April 19, 1989, a 28-year-old female jogger was brutally attacked and raped in New York's Central Park. After prolonged police interrogation, five teenagers – Yusef Salaam, Kevin Richardson, Antron McCray, Raymond Santana and Korey Wise (later to be known and referred to as the Central Park Five ) confessed to being involved in the attacks. At the time, the defendants were between 14 and 16 years of age. Yusef Salaam (one of the co-authors of Punching the Air) was tried as a juvenile and convicted of rape and assault. He served seven years for a crime he did not commit. The investigation of the convictions of these five teenagers has raised questions regarding police coercion and false confessions, as well as, the vulnerability of juveniles during police interrogations.
This book is compelling. Written in powerful verse, Zoboi and Salaam take us to in to the heart and mind of a young teenager struggling. Struggling with his decision; one that allowed him to be in the wrong place at the wrong time, and the inevitable price: to be found guilty of being black. Like Salaam's own personal story– Amal Shahid, the character in Punching the Air, finds out that "Boys just being boys" turns out to be true only when those boys are white.
The story that I thought

was my life

didn't start on the day

I was born
Amal takes us in to the juvenile detention center with him, where those in power construct an identity for him: criminal, monster; he is dismissed– because they "know his type." When he is sentenced, Amal compares his life before this moment to Africa and says, "maybe jail / is America" (p. 61). In "DNA," he connects the shackles he wears leaving the court to the shackles his ancestors wore (pp. 80–81).
Salaam writes that: "Punching the Air builds on some of the poetry I wrote while I was incarcerated. When Ibi and I started to discuss what kind of story we wanted to tell, we started with a name— Amal, which means "hope" in Arabic. It was important that whatever this teen boy was going through, he should always have hope, and we should write a story that instills hope in readers. It was also important that we make Amal's mother a prominent figure in his life, in the same way that mine was. While Punching the Air is not my story, Amal's character is inspired by me as an artist and as an incarcerated teen who had the support of his family, read lots of books, and made art to keep his mind free. Amal has to grow up really fast in a juvenile detention center, just like I did. But in his heart, his faith is strong. Ibi and I wanted people to know that when you find yourself in so-called dark places, there's always a light somewhere in the darkness, even if that light is inside of you. You can illuminate your own darkness by shedding that light onto the world."
I have said it before, and I will repeat it: there are so many amazing YA authors writing now. They honor teens as thoughtful, intelligent readers who care about complex issues and ideas– Punching the Air is no exception. If you have a young adult reader in your life, add this to their to be read pile. Then, read it with them.