Title: Greenlights
Author: Matthew McConaughey
Date Read: July 24, 2021
Two (exuberant) snaps.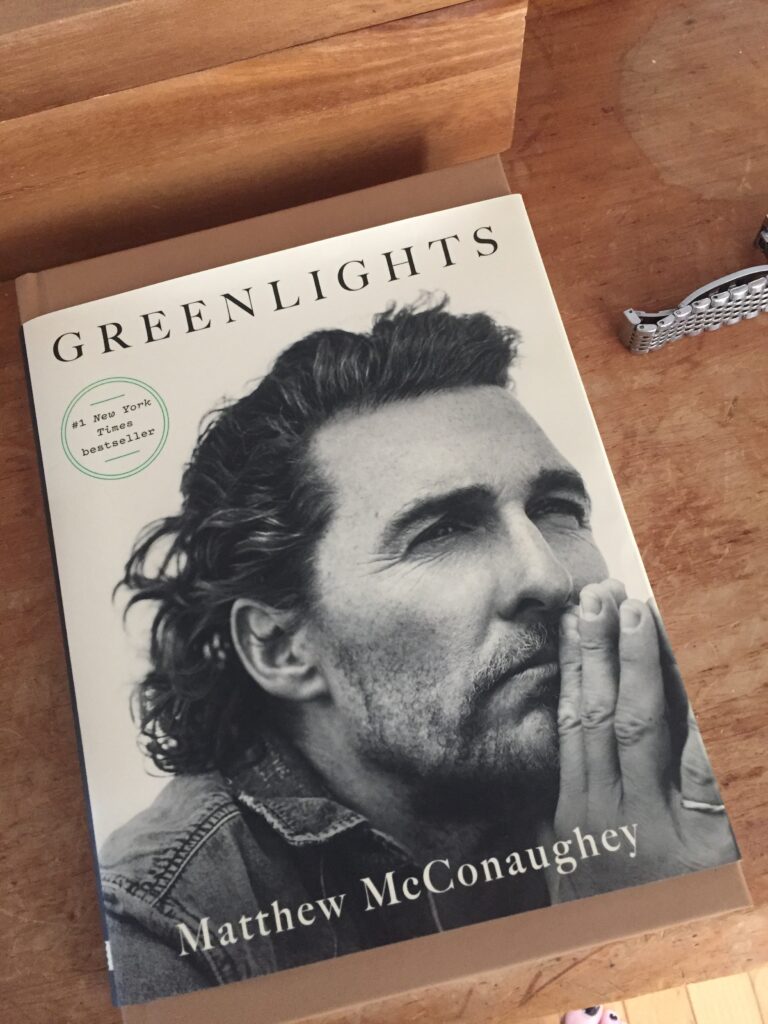 Alright, alright, alright.
This was a blissful surprise. It was peripherally on my radar ( a few casual "you should read this"… had come my way)… and then I started listening to Dax Shepard's podcast, "Armchair Expert" (recommended by colleagues and students alike) and while enjoying a sunny walk with my dog, Teddy, we listened to the interview with Matthew McConaughey. And then I bought a copy of Greenlights.
I love memoirs. And I absolutely love memoirs that start by saying they are not really memoirs. McConaughey opens this way:
THIS IS NOT A TRADITIONAL memoir. Yes, I tell stories from the past, but I have no interest in nostaligia, sentimentality, or the retirement most memoirs require. This is not an advice book either. Although I like preachers, I'm not here to preach and tell you what to do. This is an approach book. I am here to share stories, insights, and philosophies that can be objectively understood, and if you choose, subjectively adopted, by either changing your reality, or changing how you see it. 

This is a playbook, based on adventures in my life. Adventures that have been significant, enlightening, and funny, sometimes because they were meant to be but mostly because they didn't try to be. I'm optomistic by nature, and humour has been one of my great teachers. It has helped me deal with pain, loss, and lack of trust. I'm not perfect; no, I step in shit all the time and recognize when I do. I've just learned how to scrape it off my boots and carry on. (McConaughy, p. 3)
Reaching his fiftieth birthday, McConaughey became introspective and sat down with the diaries and journals he had been keeping most of his life. Within them he finds inspirational quotes, intricate poems, sketches and doodles, deep thinking, perceptive questions and sum-it-all-up bumper stickers that show who he was, who he became and who he has always wanted to be.
It's a love letter. To life.
It's also a guide to catching more greenlights – and to realizing that the yellows and reds eventually turn green too. It is simply delightful.
McConaugheyconsiders himself a storyteller by occupation, believes it's okay to have a beer on the way to the temple, feels better with a day's sweat on him, and is an aspiring orchestral conductor.
In 2009, Matthew and his wife, Camila, founded the just keep livin Foundation, which helps at-risk high school students make healthier mind, body, and spirit choices. In 2019, McConaughey became a professor of practice at the University of Texas at Austin, as well as Minister of Culture/M.O.C. for the University of Texas and the City of Austin. McConaughey is also brand ambassador for Lincoln Motor Company, an owner of the Major League Soccer club Austin FC, and co-creator of his favorite bourbon on the planet, Wild Turkey Longbranch.