Title: Carrie Soto is Back
Author: Taylor Jenkins Reid
Date Read: November 7, 2022
Two Snaps!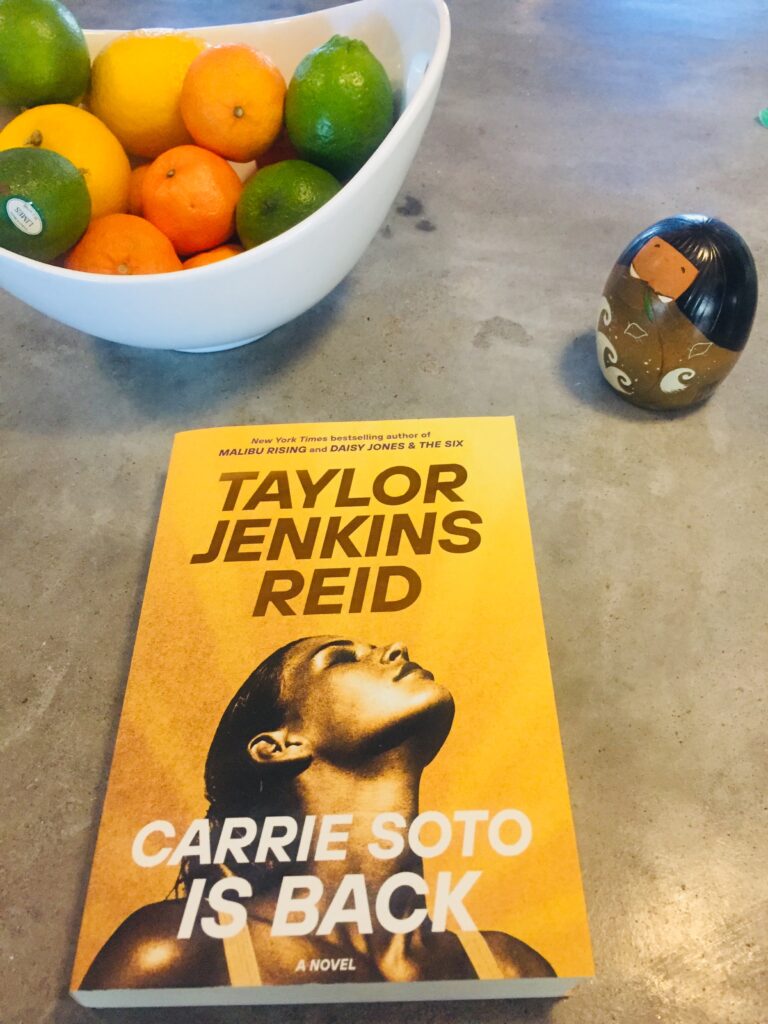 A fun inagural read for my book club full of fantastic women with whom I love to read! We had a great discussion about Carrie, tennis, and one of our favorite writers, Taylor Jenkins Reid.
At first, I ignored this book because I didn't think I knew enough about tennis to enjoy it. But Jenkins Reid gives a fast-paced tutorial on the game, in beautiful passages, which I am familiar with from her previous books which I have enjoyed, like Daisy Jones and The Six (look for the movie adaptation in theatres soon!) and The Seven Husbands of Evelyn Hugo.
Did you know Wimbeldon is a grass court, while the Australian Open in Melbourne is played on clay? Do you know what that means to a tennis player? "Clay surfaces are softer; they absorb more of the power of the ball. Which means everything about them is slower, and the ball bounces higher too, which gives my opponents more time to recat to my shots. Clay cuts into my advantage at almost every juncture." (Jenkins Reid, 163).
I began to understand the way tennis is scored and played.
"She tosses the ball into the air and serves to the far-right edge of the box. I hit a groundstroke back. We rally for the point, and I take it. Love-15.
Another serve, another rally. My point. Love- 30.
I look up at my father and see a small smile on his lips.
Cortez serves again, this time shorter, tighter. I hit to the baseline. She hits it back soft. I win the point. Love-40. I'm already at break point in the first game. " (Jenkins Reid, 151).
And, as art often imitates life, the two lead characters: Carrrie and Bowe evoke tennis players that I know only from their celebrity. Carrie is determined, tough and confident– a multiple Grand Slam winner. It would be impossible not to draw parallels to Serena Williams, twenty-three-time Grand Slam title winner coached from an early age by her parents. Likewise, it is Carrie's father, a former tennis pro who dedicates himself to building a pro out of Carrie. Meanwhile, it was hard not to think of John McEnroe while reading of Carrie's male tennis partner, Bowe Huntley, who Carrie's father describes as "a walking tantrum."
A story telling device employed brilliantly by Jenkins Reid is to intersperse the narrative story with statements made in the press; newspaper articles; and transcripts from sports television commentary. This allows us to hear the public narrative around her comeback to the game, six years post-retirement, to defeat Nikki Chan and reclaim her titles.
"Evans: Can the Battle Axe still compete in today's game?
Wallace: We will see. There's something else here that I think is important to note.
Evans: And what is that?
Wallace: Soto isn't just playing an old style– she herself is old. No woman has won a Slam in her late thirties.
Evans: And here is another question: Do we even want her back? She's not the most… well-liked, is she?
Wallace: Well, they don't call her the Battle Axe for nothing."
(from Transcript: Sports News Network, Wild Sports with Bill Evans, October 12, 1994, p. 93).
Carrie Soto is 37 as she comes out of retirement in 1995 to play all four Grand Slam events, television hosts and journalists alike continue to mock Carrie for being too old to play. Interestingly, Martina Navratilova won numerous Grand Slam mixed doubles titles after turning 40. In fact, she collected her final mixed doubles major at the 2006 US Open, just a few weeks before her 50th birthday; Serena Williams won 10 majors after turning 30 and Serena was 36 years old when she returned to the tour after giving birth to her first child, Olympia. So there, it is all possible in real life too!
Carrie doesn't talk and joke around. She is unflinchingly and singularily focused on being the best.
"The morning of my first match on the Virgina Slims Tour, my father gave me a pep talk before I went in to the locker rooms. "You can talk and joke around with the other players if you have to," he said, "but remember they are not your friends, they are your…"
"Enemies."
"Opponents" he said.
"Same thing," I said.
Carrie Soto is back: and she is determined to show everyone that she is the best. No apologies: just grit, hardwork and self sacrifice– but also acute vulnerability and heart. Another great read from Taylor Jenkins Reid.