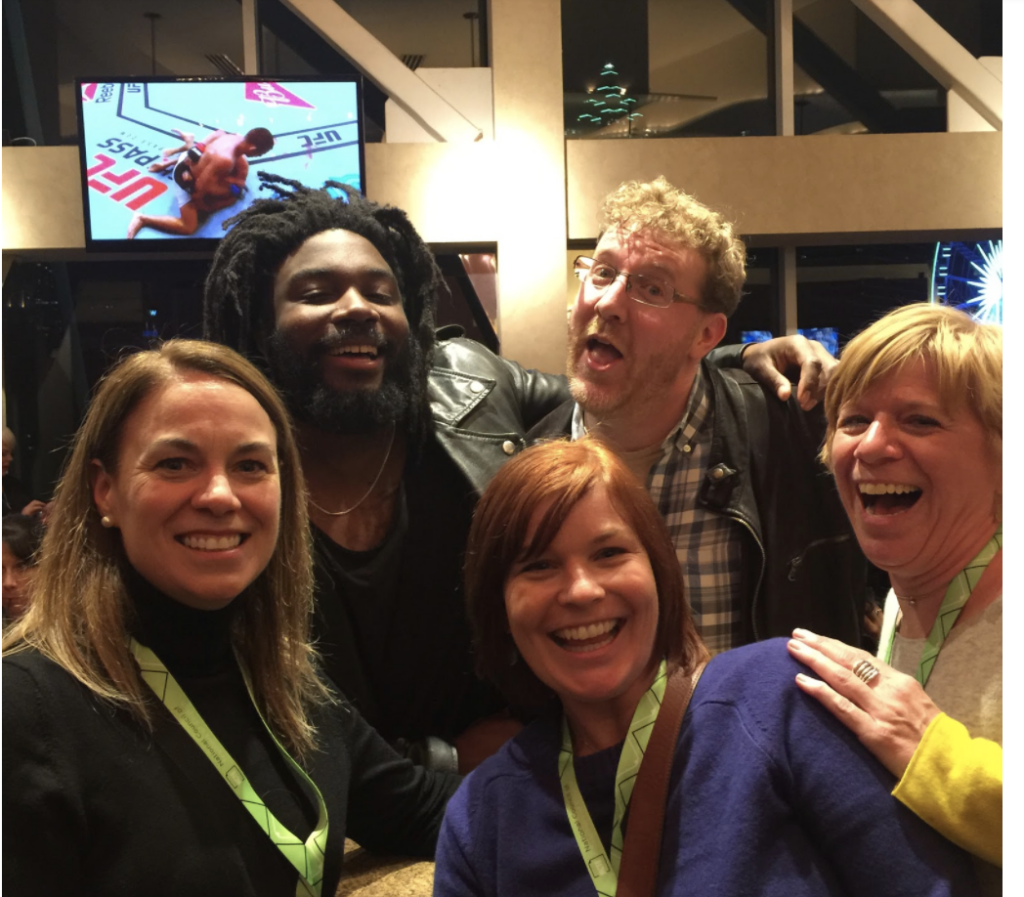 If you are one of my students, then you have already heard how much I love Jason Reynolds. Right after reading and loving his novel co-authored with Brendan Kiely, All American Boys, I was lucky to attend the National Council of Teachers of English conference in Atlanta.
All American Boys is a 2016 Coretta Scott King Author Honor book, and recipient of the Walter Dean Myers Award for Outstanding Children's Literature. In it, two teens—one black, one white—grapple with the repercussions of a single violent act that leaves their school, their community, and, ultimately, the country bitterly divided by racial tension. This novel went on to be a class novel I studied with a group, and a title that is always on loan to students.
Following that read, I was quick to pick up The Boy in the Black Suit, for which Reynolds won yet another Coretta Scott King Award. Matt wears a black suit. First, beacuse his mother has died. Second, because he got a job at the funeral home to help pay the bills. Life is rough, and then he meets Lovey– someone who understands his loneliness and tries to to ease its burden as well. Then I read the story of Ali and his friends, Noodles and Needles in When I Was The Greatest. I loved the story of these boys and how they end up exactly where they shouldn't be and how they manage it somehow just the same.
Reynolds captivated me in Long Way Down, which I reviewed here; and in his letter to teens everywhere in For Everyone, which I talk about here.
Simply, I love everything he writes.
He writes young middle grade novels too (which I haven't yet read or reviewed, but plan to get at…) titles include, Ghost, Patina, Sunny and Lu.
I even taught a lesson on writing a bio, using Reynolds' bio as a mentor text for my writers, because he is irreverent, honest and funny. Check it out here.
Reynolds speaks to the teenagers he writes for, holding to his promise to not write boring books. He has also been forthcoming and honest about how he hated to read and felt no one ever wrote books that he could relate to. So, he started the books he wanted to read.
Reynolds has been named the 2020-2021 National Ambassador for Young People's Literature, a position he is deserving to hold.
Currently, Reynolds is also hosting the Write. Right. Rite. Series a GRAB THE MIC: Tell Your Story video series. Throughout the series, he shares his passion for storytelling while discussing topics like creativity, connection, and imagination. At the end of each video, Reynolds will share a prompt that encourages young people to work toward a specific idea. The activities are fun-filled and some are more challenging than others, but Reynolds always makes sure to include brainstorming "get-you-going" questions.
If you have teenagers in your life, get them reading Jason Reynolds! Or, writing with Jason Reynolds!
You can also follow Reynolds on Twitter or Instagram.