Title: From the Ashes: My Story of Being Metis, Homeless and Finding My Way
Author: Jesse Thistle
Date Read: May 19, 2020
Two snaps.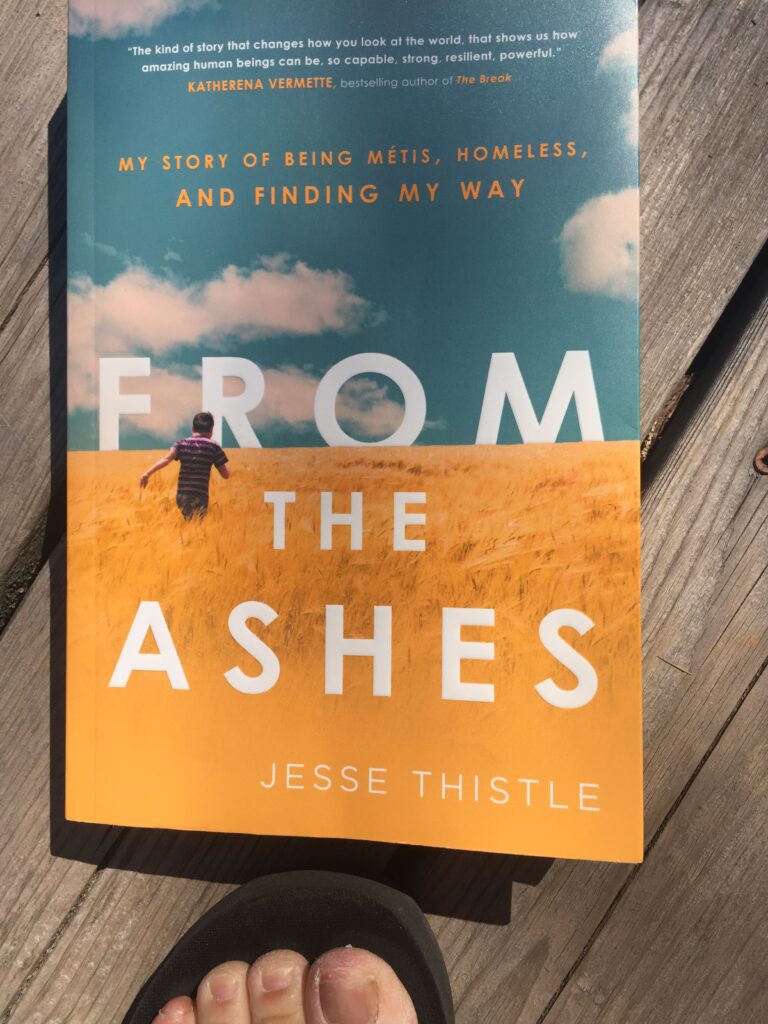 Some of the best stories are the ones lived and not made up. From the Ashes was heart-wrenching and traumatic– but also honest, poetic and hopeful.
Jesse Thistle's memoir was a short list contender for this year's (pandemic post-poned) Canada Reads competition. This year sought the one book all Canada should read. I think they found it.
I try to select titles from the annual Canada Reads short-list. I have reviewed a few in the last two years: Marrow Thieves (short-listed in 2018 as a book to open your eyes); Brother and The Woo Woo (both on the 2019 short list as a book to move you); and We Have Always Been Here (short listed this year alongside From the Ashes).
Why should you read this book? Because Thistle's lived experience reveals the consequence of trauma. Children who experience disconnect in childhood, inevitably seek to numb in adulthood. Thistle and his brothers experienced severe physical and emotional neglect from their father, a drug addict, who was frequently incarcerated or on the run. As much as relatives did step in to look after the boys, much of the enduring damage was done.
His memoir is divided in to four sections: Lost and Alone; Falling Apart; The Stolen Streets; and Reconciliation. His dedication speaks to the damage done not only to himself and his family, but to so many Indigenous families. He writes: "The pages of this book speak to the damage colonialism can do to Indigenous families, and how, when one's Indigeneity is stripped away, people can make poor choices informed by pain, loneliness, and heartbreak, choices that see them eventually cast upon the streets, in jail, or wandering with no place to be."
The Homeless Hub, (part of the Canadian Observatory on Homelessness) suggests that many of the personal issues (including familial dysfunction, substance use, addictions, health issues, community violence) faced by Indigenous Peoples and that act as contributors to homelessness can be directly linked to various types of historical trauma. Research has also shown that Indigenous Peoples experience lower levels of education, poorer health, higher rates of unemployment and lower income levels compared to non-Indigenous people. You can research this and more about the trauma and injustices faced by Indigenous peoples in Canada, but if you need one book that Canada needs to read, to really understand— it should be Thistle's story.
There is power in story. We live our stories everyday– we show up and face our truth. Our stories make us who we are; the torment that breaks us and the mettle that builds us up. And, in sharing our stories we give voice and power to our ways of seeing the world and living in it.
As Maya Angelou writes, "There is no greater agony than bearing an untold story inside you." Let Thistle's catharsis be your invation to see Canada in a whole new way. From the Ashes is my (unofficial) choice for the book Canadians should read.