This last school year was not like most of those I have experienced in my career. Not even my first year was as challenging as this one. For many different reasons, this year felt heavy and tumultous, unpredictable, and emotionally heavy. I didn't find myself with the time nor energy to write about what I was reading. I did read, as I always do. But I guess I was just enjoying them on their own for what they brought me when I needed to escape, to learn, or to just be alone for a bit.
I still enjoy letting people know what books I have read, and what I enjoyed about them. So, today I felt like writing, and this seemed like a place to start getting back to that as well. Between February and June, in the last semester of school, I read seven books; this post gives a snaps to all of them together here, and can also be linked separately and searched by category.
Broken (In the Best Way Possible) by Jenny Lawson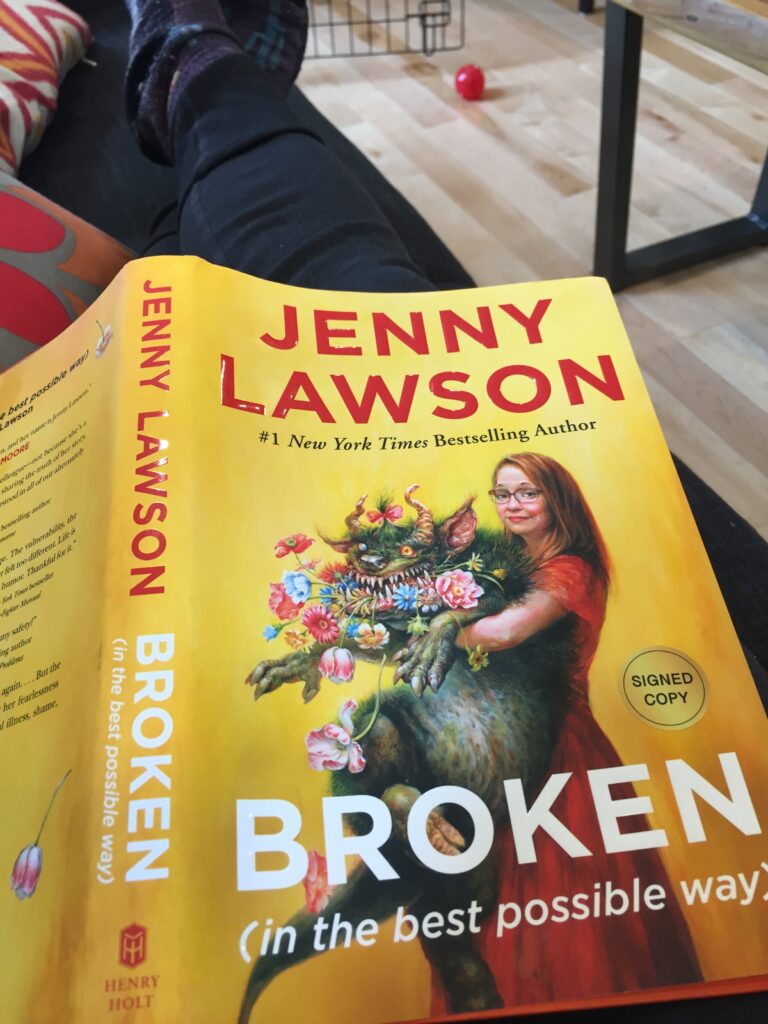 Jenny Lawson is a vulnerable, courageous, and hilarious memoirist. I love the way she openly discusses depression and anxiety, and the hilarious way she does it. There are tough stories there too, but they are honest and brave. Jenny is relatable but eccentric– her life is broken, in the best way possible. Two Snaps.
Jenny has written two other memoirs: Furiously Happy and Let's Pretend This Never Happened and they are amazing for all the same reasons. These memoirs are mirrors for those who struggle with mental health and wellness and windows in to the world of depression and anxiety for those who are reading to learn.
"I can tell you that 'Just cheer up' is almost universally looked at as the most unhelpful depression cure ever. It's pretty much the equivalent of telling someone who just had their legs amputated to 'just walk it off.' " (Lawson, Broken).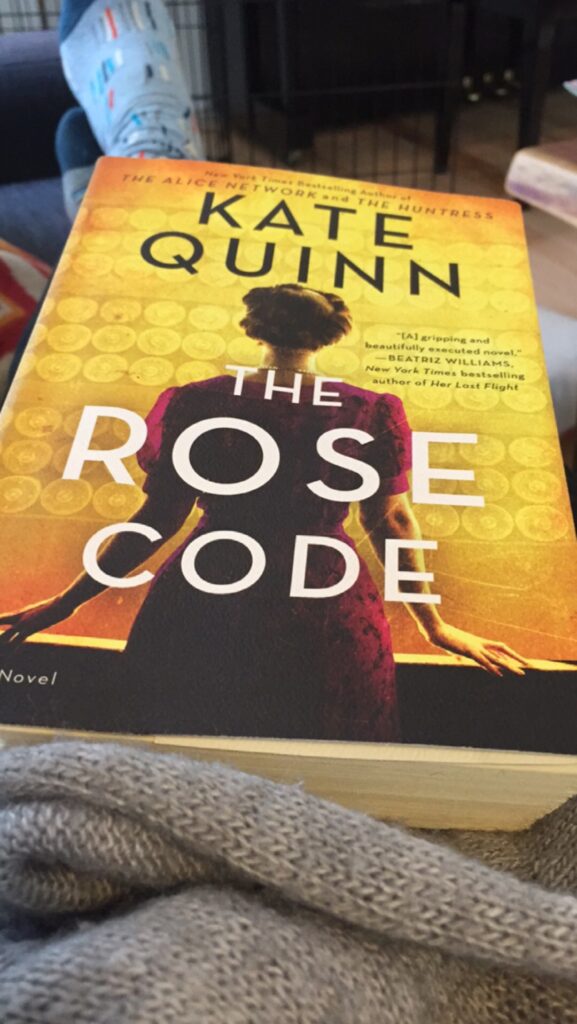 After just bingeing the Netflix series "The Crown" I fell in love with Kate Quinn weaving the story of Osla, a debutane World War II codebreaker and girlfriend to Prince Philip of Greece, in two vacellating stories: 1940 and 1947; allowing the reader to see past come to future, and, spoiler alert: Prince Philip doesn't marry Osla. Three women's stories are shared: Osla, Mab, and Beth are the codebreakers united at Bletchley Park past (1940), and now (1947) must resurrect their old alliance and crack one last code together before Philip marries Elizabeth. Two Snaps.
Kate Quinn is also the author of The Alice Network, which I have not yet read, but it has been highly recommended to me, and so I likely will.
"If you were a man and you wrote funny pieces about daily life, they called it satire. If you were a woman and you wrote funny pieces about daily life, they called it fluff." (Quinn, The Rose Code).
Why I'm No Longer Talking to White People About Race by by Reni Eddo-Lodge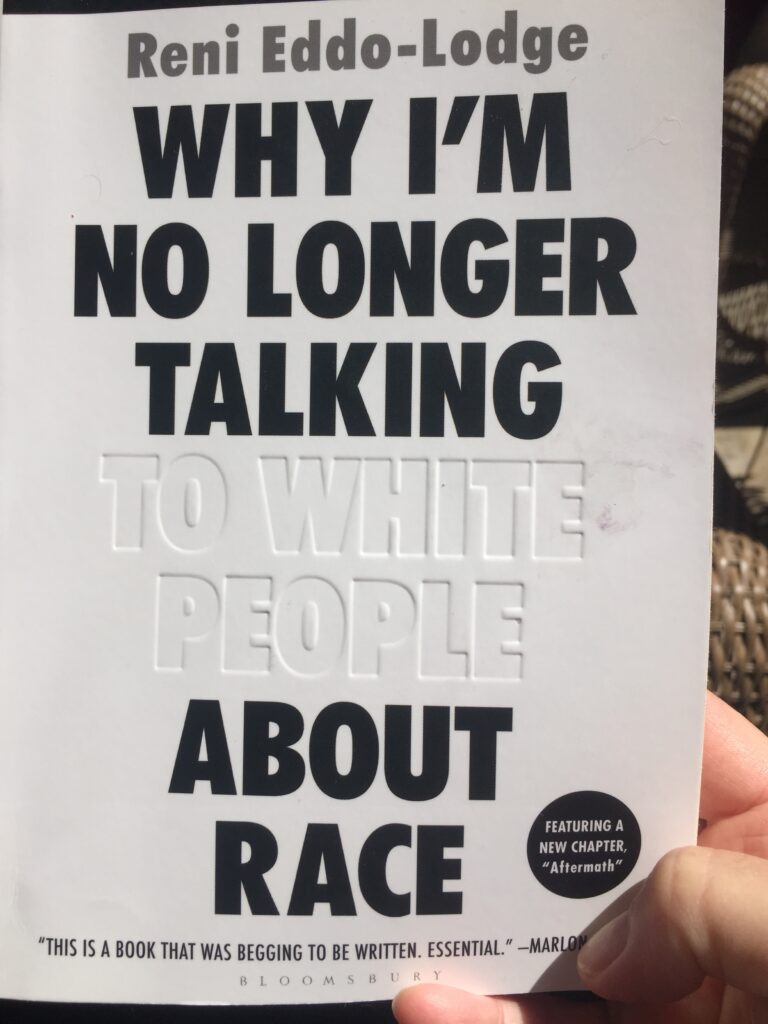 Reni's book is a deeper exploration of her 2014 blog post of the same title. She explores issues from eradicated black history to the political purpose of white dominance, whitewashed feminism, to the inextricable link between class and race. Born of her frustration with discussions with white people about race, she offers solutions of how to counter racism. Hard not to judge a book by it's cover here: the whitewashed and embossed "to white people", from afar can look as if the title is "Why I'm No Longer Talking About Race" a visual representation the way white people are blind to the structural racism that benefits them. It's that clever all the way through. Two Snaps.
"Not seeing race does little to deconstruct racist structures or materially improve the conditions which people of colour are subject to daily. In order to dismantle unjust, racist structures, we must see race. We must see who benefits from their race, who is disproportionately impacted by negative stereotypes about their race, and to who power and privilege is bestowed upon - earned or not - because of their race, their class, and their gender. Seeing race is essential to changing the system." (Lodge, Why I'm No Longer Talking to White People About Race). 
Giving Students a Say: Smarter Assessment Practices to Empower and Engage by Myron Dueck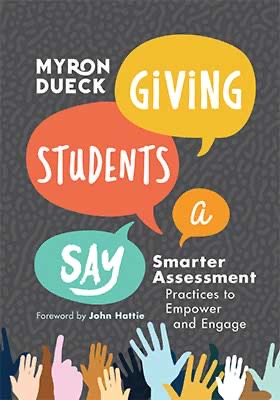 This was a professional read, obviously. It led me to enter Dueck's Twitter contest by tweeting a photo of myself and Teddy with the book. We won!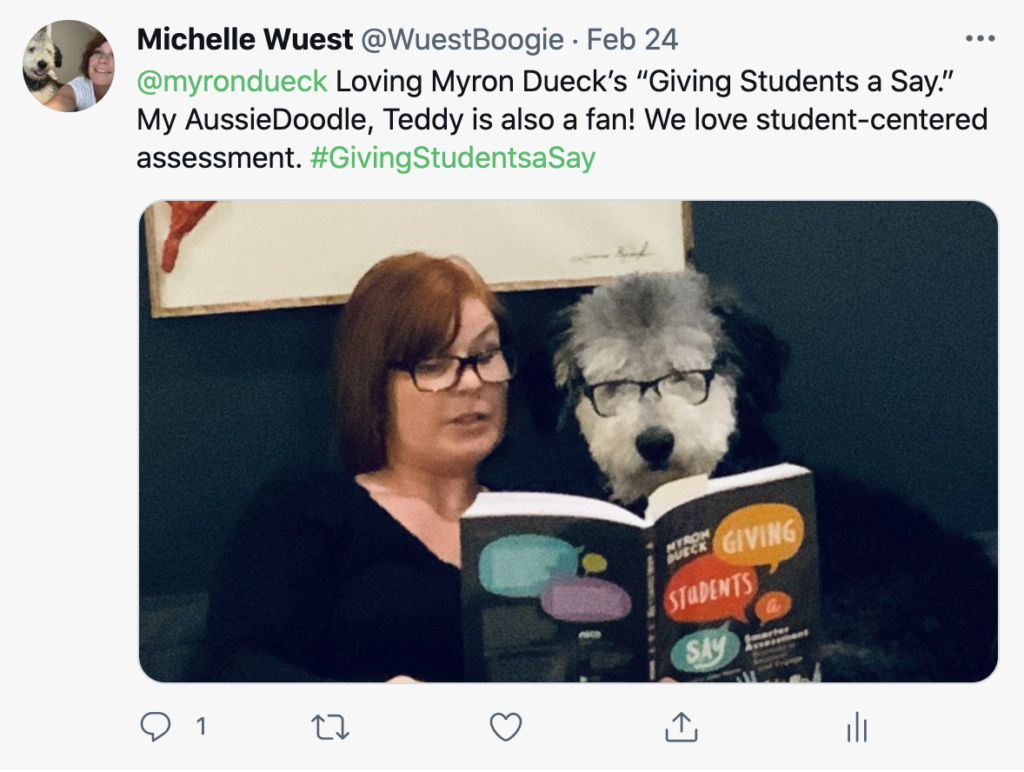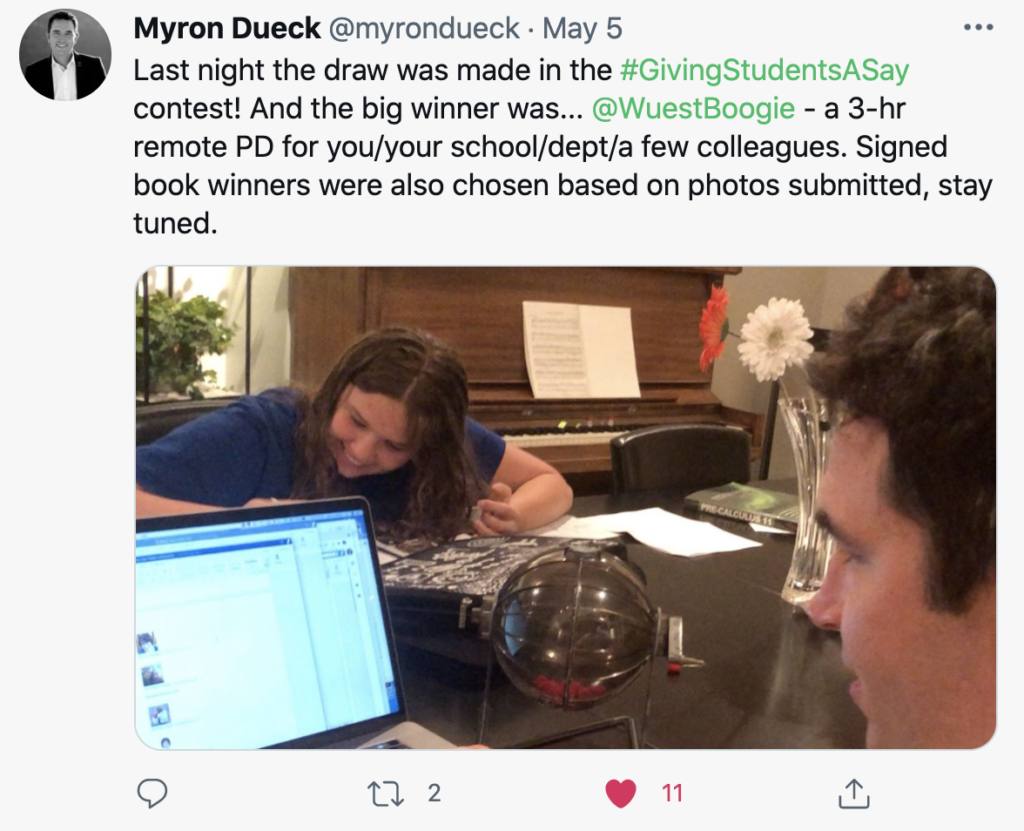 Dueck skillfully delivers on topics that resonate with how I teach. Just as the title says: giving students a say is essential in empowering, engaging, and also in communicating student learning. I also strongly believe that in order to accurately report on a student's learning, they must be a part of the conversation; they know how they learn; who they are, their strengths and areas for growth; and what they have learned: that's essential information in student-centered pedagogy and essential insight into accurately assessing a student's learning. From teachers they need: the why of their learning; you can't hit a target you don't see. It offers a necessary piece of triangulation evidence: conversations, amongst observations and products. Triangulation means using more than one method to collect data on the same topic. Giving students a say ensures the validity of the assessment: who knows more about their own learning than the learner? Two Snaps.
Myron Dueck is also the author of Grading Smarter Not Harder which I also resonated with and loved. Dueck still teaches in British Columbia. He can be found on Twitter.
"If assessment means "to sit beside," we need to stop figuratively placing the learning outcomes on the table between us and our students, informing them of what's right and what's wrong, and instead slide our chair around to the same side of the table to facilitate a conversation. Assessment would then become a process by which we collectively strategize and codesign how we will best approach, evaluate, and report on the learning objectives. Students would ideally be able to demonstrate understanding over a period of time, drawing on examples and discussing challenges and what's been learned from these experiences. Just imagine the transformational potential if learning were to truly become a partnership between the teacher and the learner." (Dueck, Giving Students a Say). 
Let That Sh*t Go: Find Peace of Mind and Happiness in Your Everyday by Kate Petriw and Nina Purewal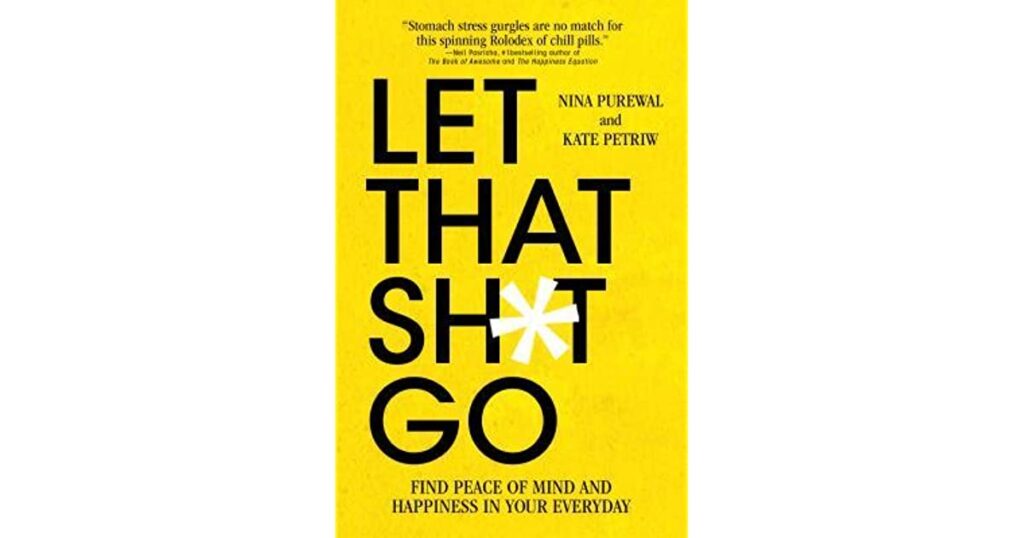 Finding peace and happiness within a global pandemic wasn't always easy– so this just sorted of landed when it needed to. Nina and Kate share stories and advice to put your life in perspective, take each day one step at a time, and find calm amid the chaos. It really is not worth worth holding onto sh*t.
Visit the pure minds book site, where they explain:
Let That Sh*t Go has over 100 tips on how to find more peace and happiness in your everyday, a no-filter approach to mindfulness. The chapters are as follows:
Awareness: Goodbye Past & Future Worries
Self-love: What You Didn't Learn in Middle School but Probably Should Have
Acceptance: You Can't Control the Number of Instagram Likes You Get
Perspective: You Are Made of Fucking Stardust
Authenticity: There's Only One Magical You
Forgiveness: It's Time to Use the F-word
Behind the Screen: Finding Your Tech Zen
The Reveal: What the Fuck Did You Just Do? (Mindfulness)
Next Level: The Mind Workout (Meditation)
I am currently practicing yoga and the mantra of: leave it on the mat, while also practicing next level mind workouts by meditating. A good reminder to keep things in perspective. Two snaps.
Also helpful, this chart on when to give a f*ck: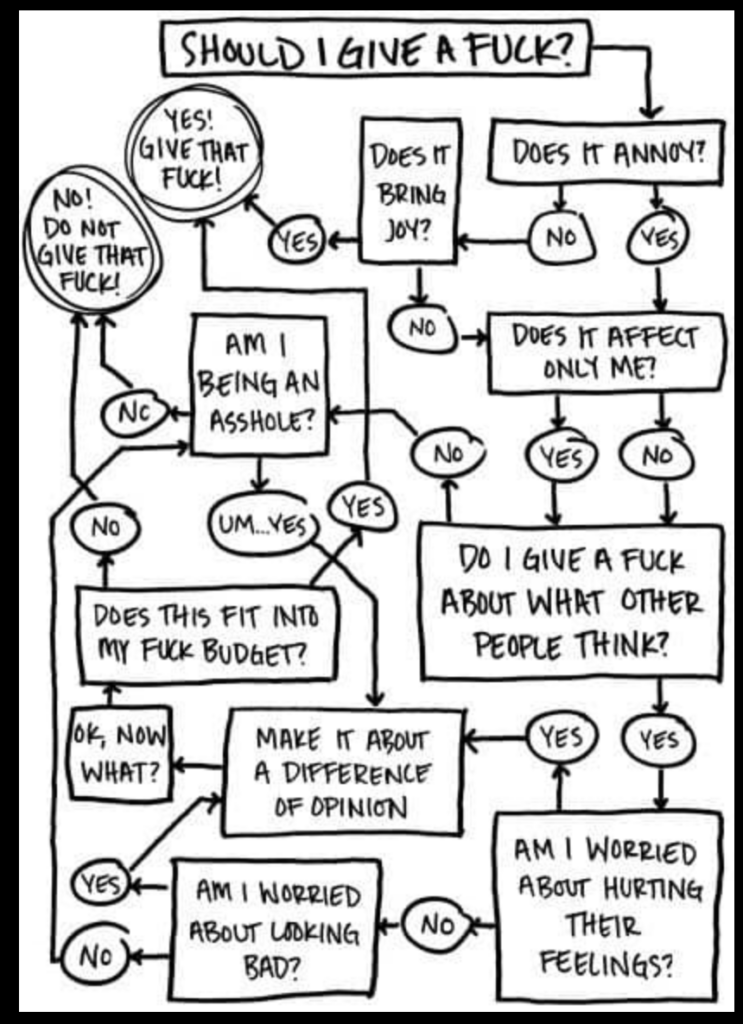 If any of this sounds up your alley, may I also suggest: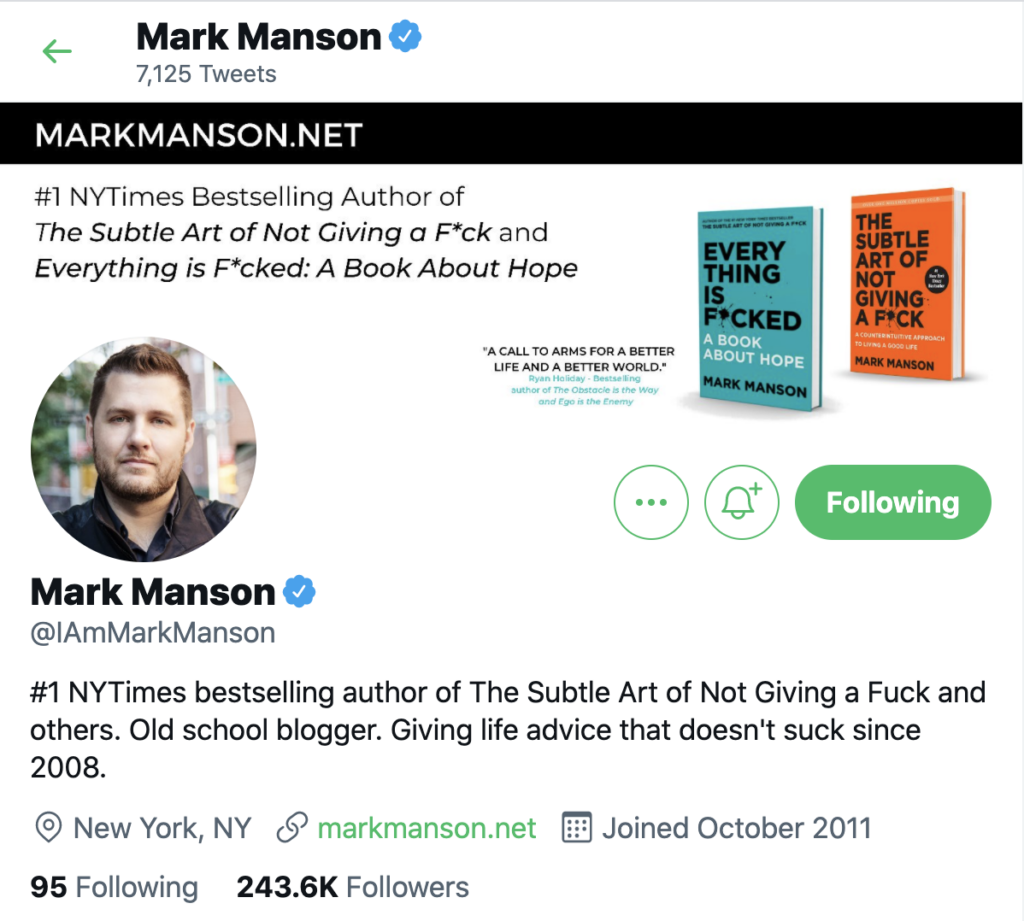 I believe I am on the journey to fully master the subtle art of not giving a f*ck. Join me.
"Imagine if life were always simple and easy. You wouldn't appreciate the good times in the way you do if you haven't endured the bad. You wouldn't be who you are today without your challenges. It's what built your character. It's what made you value life the way you do. It wasn't fair that you had to go through what you did, but you are a different person because of what you experienced."(Petriw & Purewal, Let That Sh*t Go). 
Dare to Lead: Daring Greatly and Rising Strong at Work by Brene Brown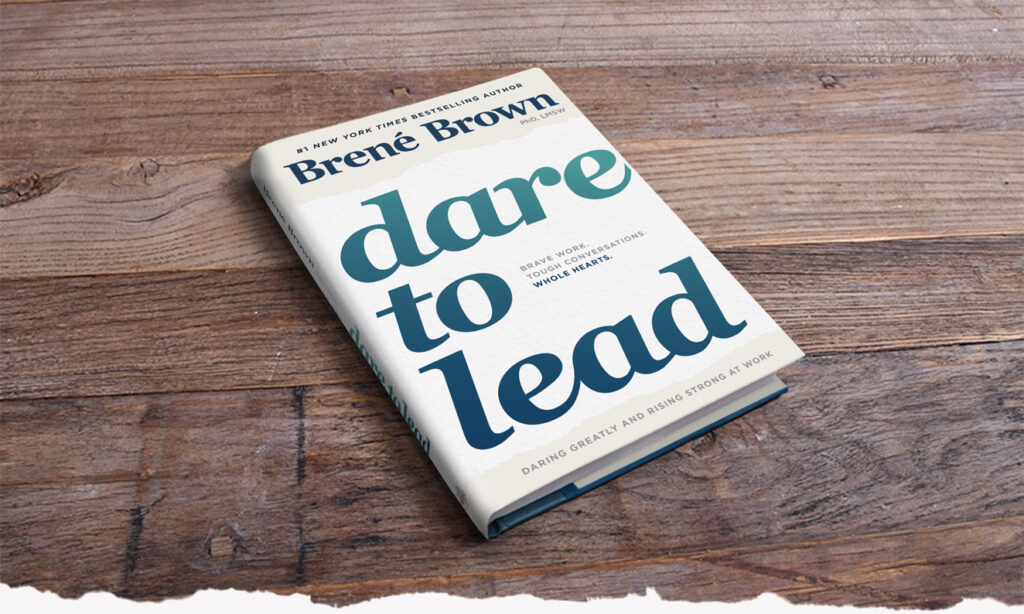 Brene Brown has been accompanying me on my walks, in my earbuds, via Spotify, within her two amazing podcasts, Dare to Lead and Unlocking Us. I have been thoroughly enjoying the interviews and conversations. This led me to apply for a grant and launch a faculty book study for #daringeducators. Myself and 28 colleagues read, discussed, and bonded over the reading and weekly work of Dare to Lead. It was exactly what I needed in May of this year. I am grateful for our shared experience, and the amazing co-workers who committed to it.
Divided into four parts: rumbling with vulnerablity; living into our values; braving trust; and learning to rise– Brown shares two decades of research and experiences inside hundreds of organizations to give a practical, actionable book on what makes a daring leader.
She defines a leader as: "anyone who takes responsibility for finding the potential in people and processes, and who has the courage to develop that potential" (Brown, p.4).
The heart of daring leadership?
1. You can't get to courage without rumbling with vulnerability. Embrace the suck.
2. Self-awareness and self-love matter. Who we are is how we lead.
3. Courage is contagious. To scale daring leadership and build courage in teams and organizations, we have to cultivate a culture in which brave work, tough conversations, and whole hearts are the expectation, and armor is not necessary or rewarded.
Through the work, I defined my two values (she insists you must narrow down to only two) to: balance and learning. These are the values that define me. If I am at my best, I am learning and I am also in balance. These values also provide a filter to make hard decisions: am I leaning into my values? I need to balance work, play, and parenthood. When I must, I also evoke Walt Whitman's quote as a mantra to remind myself to lean into my value to learn: "Be curious, not judgemental." Seen also in one of my favourite Ted Lasso clips, an Apple TV series that should not be missed. You want feel good entertainment? Ted Lasso is your man.
I'm ready to rumble (with vulnerability and courage), and so are my colleagues!
"Tell me more— what are you thinking?" and respect his truth as a full truth, not just an off version of my truth." (Brown, Dare to Lead: Brave Work. Tough Conversations. Whole Hearts.)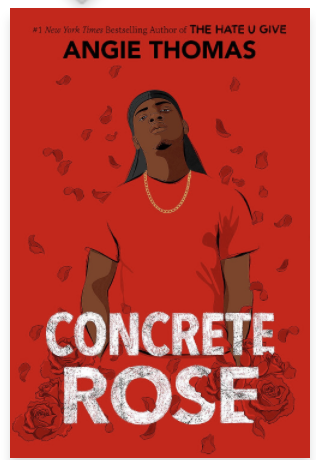 Angie Thomas takes us back seventeen years, to the Garden, where she first introduced us to Maverick Carter, unravelling the back story of Starr Carter's dad (from Thomas' previous novel, The Hate U Give) and his struggles with black mandhood: gangs, drugs, and parenthood.
Another clear YA win for exposing the heart of our humanity, examining race and priviledge with honesty, and telling a great story readers can invest in. Two snaps.
"Son, one of the biggest lies ever told is that Black men don't feel emotions. Guess it's easier to not see us as human when you think we're heartless. Fact of the matter is, we feel things. Hurt, pain, sadness, all of it. We got a right to show them feelings as much as anybody else."(Thomas, Concrete Rose).