Title: Rising Strong: How the Ability to Reset Transforms the Way We Live, Love, Parent, and Lead
Author: Brene Brown
Date Read: June 26, 2020
Two snaps.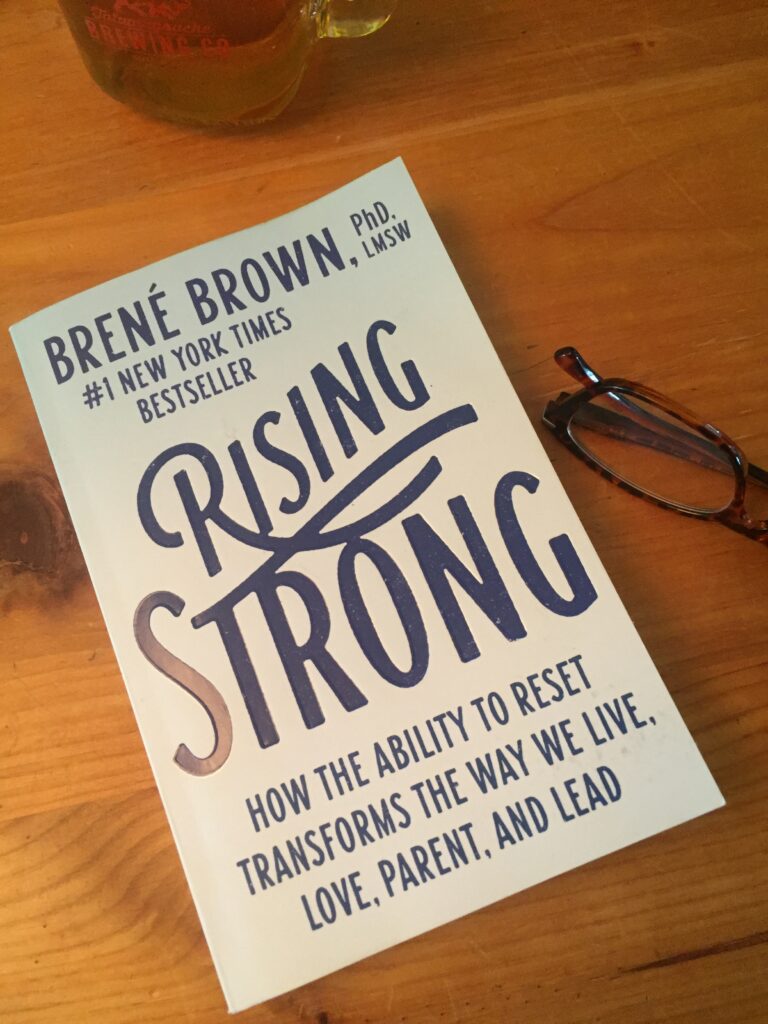 You have likely heard of Brene Brown from her powerful TED Talk on the power of vulnerability. Brown is a research professor at the University of Houston who studies and writes about courage, vulnerability, shame, and empathy. This book picks up on the vulnerability thread.
While vulnerability is the birthplace of many of the fulfilling expereinces we long for– love, belonging, joy, creativity, and trust, to name a few — the process of regaining our emotional footing in the midst of struggle is where our courage is tested and our values are forged.

Brown, p. xviii

In each of our lives we face situations where we need to rumble with our emotions, and the enivitable stories we make up as we work to handle them. The emotions we feel in response to the shame, guilt, anger, and heartbreaks in our lives require that we address our thinking about the situation, how we feel and how we are behaving– and know that all of these are connected.
Brown writes that our desire to make up stories is a primitive survival wiring. In the absence of data, we make up stories. Meaning-making is our biology. This struck a chord for me. I don't know about you, but I have (on more than one occasion) written the screenplay dialogue between myself and a person with whom I was in disagreement with. I could tell you why my boyfriend acted a certain way; the response my roommate would give to my complaints; the story behind a co-worker's behaviour; and on and on. Truthfully, I wasn't often very good at it. The second thing that seized my attention was her own row with an idea given to her by her psychiatrist in response to a situation she had been in. Instead of taking sides (as Brene had hoped she would) she instead asked her if she believed that people are really just doing the best they can. Brene shirked this explanation with fury but set out to test the theory. The best summation came from her own husband: "I don't know. I really don't. All I know is that my life is better when I assume that people are doing their best. It keeps me out of judgment and lets me focus on what is, and not what should or could be." (p.113). I love that thinking, and it was a true take away from this book.
As Brown notes, "We make up hidden stories that tell us who is against us and who is with us. Whom we can trust and who is not to be trusted. Conspiracy thinking is all about fear-based self-protection and our intolerance for uncertainty." Problem is, these stories distort how we relate to others.
But it isn't that we should not capture these first stories– we should. But we need to interrogate them more closely and look at what's really there. We need to be honest about the stories we make up about our struggles, to revisist, challenge and reality check them. This is rumbling with a problem– owning it, looking at the stories we are making up, and getting curious about why we are thinking and feeling that way. This spoke to me. I had written lots of "shitty first drafts" (Brown, p.85) about all kinds of things– but many of them did little capture the real essence of the situations I found myself in. In fact, they often distorted reality and caused further damage.
The Rising Strong Process is really quite simple, but transformative. The goal is to rise when we fall, overcome our mistakes and face our hurt in a way that brings more wisdom and wholeheartedness to our lives. First, we need to recognize our emotions and get curious to figure our how they connect with how we think and behave. Second, we need to get honest about the stories we make up and challenge confabulations and assumptions. Last, write a new end to the story based on what we learned from our rumble. Then, use this new story to transform how we live, love, parent, and lead. (Brown, p.37).
This book came highly recommended to me, and I highly recommend it to you.